Regular price
kr 2,999.00 NOK
Regular price
kr 3,443.00 NOK
Sale price
kr 2,999.00 NOK
Unit price
per
Sale
Sold out
All the 7 products to a discounted price.  This set is designed as a korean skincare routine (Kbeauty), with a double cleanse before nutrients and hydration. 
All products contain Seaweed and probiotic ingredients. 
Smells like a refreshing summer day at the spa, with a hint of mint.
Ingredients

You can find the ingredients under each product page.
The fresh scent

Our skincare products
are like a refreshing summer day at the spa! With a hint of mint, the invigorating scent will awaken your senses and transport you to a relaxing oasis.

Imagine the feeling of cool, fresh air on a sunny day, all captured in one bottle. Mint is known for its cooling and soothing properties, making it the perfect addition to any skincare routine.

Pamper yourself with the luxurious scent and feel of our skincare products.
Share
View full details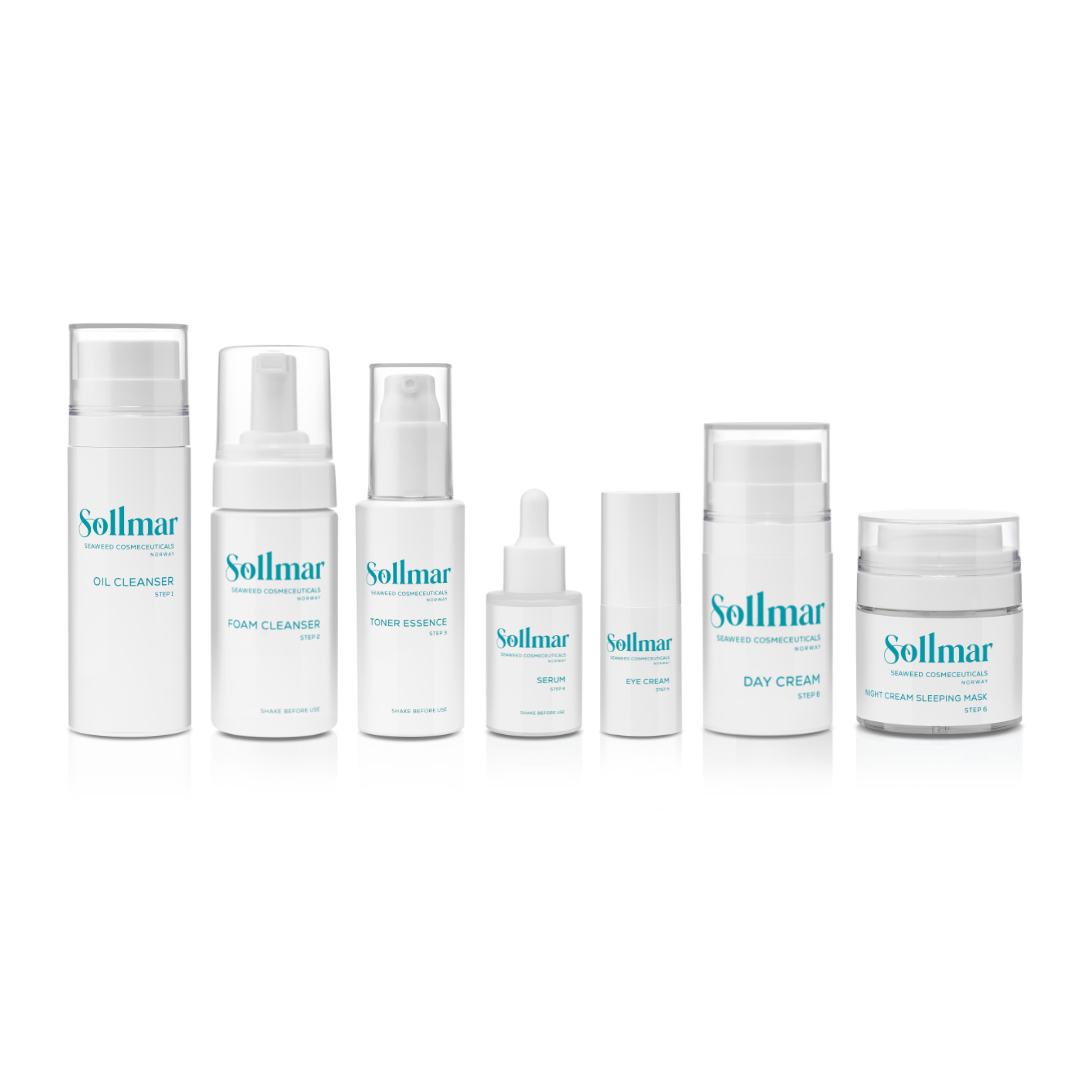 Let customers speak for us
For healthy balanced skin
Oil Cleanser - Gently removes make-up and other oil based impurities from the skin.
Foam Cleanser - A deeper cleanse, exfoliates and prevents clogged pores.
Toner Essence - Gives moisture and glow. Nourishes the skin and helps even the skin tone.
Serum - Nourishes the skin and minimize pores. Helps to prevent acne.
Eye Cream - Hydrates and prevents lines, dark circles and puffiness.
Day Cream - Hydrates, balance and protect the skin microbiome.
Night Cream/Sleeping mask - Emollient, regenerating and soothing.
Formulated with natural, probiotic and active ingredients and seaweed to balance the microbiome of your skin. Packed with nutrition, this is food for your skin! Can be used by all skin types. With natural ingredients and focus on zero waste in production,  Sollmar is good for both you and the planet. 
Smoother and stronger skin

- I noticed smoother, stronger skin. I have smaller pores and less wrinkles, my skin seems more moisturised.
- Sølvi - Dry Skin

No outbreaks

- The skincare line has kept my skin
generally clean over the entire
period. No pimple outbreaks.

- Synne - Acne Skin

Cleared my oily t-zone

- My skin is softer, smoother. I do not
have an oily T-zone anymore.
I haven't had impurities in my
cheeks. That's where I use to get
pimples.'

Sonja - Combination Skin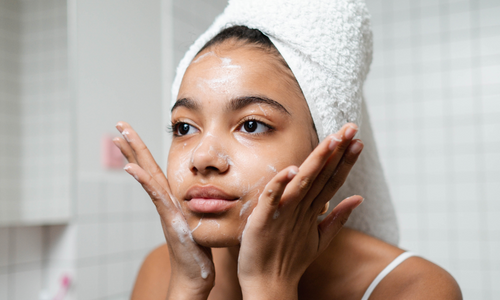 Skin Cycling
'Skin Cycling' is the key to healthy skin. The practice of rotating products that contain active ingredients allows you to reap the benefits of your products without overdoing it and causing irritation.
This is how
Uniqe Ingredients
Rice Ferment
Rice ferment can give you a smoother skin tone. It helps to minimize age spots and acne scars.
Snow Mushroom
This is a 'moisture magnet'! Snow Mushroom adds moisture to your skin, and it also helps draw moisture deep into the skin so that your skin is hydrated from within. It has smaller particles than Hyaluronic acid and will penetrate the skin more easy. Contains vitamins A (retinol), C, D, various antioxidants, anitbacterial properties. Helps with dark spots and hyperpigmentation.

Seaweed
Nourish the skin with vitamins, minerals, antioxiadants. These nutrients help stimulate the skin, promote healthy cell growth, and improve skin texture and appearance.
Oat
Calms and protects the skin. Inti inflamatory and helps with dry skin, acne and eczema. Strengthens the skin barrier, and can also increase the skin's ability to retain moisture.

Green Tea/Chia/Mugwort ferment
This mixture feeds the skin nutrition and antioxidants, and helps to keep/build the
skin barrier. Makes the skin more resistant to UV and pollution.
Flaxseed
Gives a protective layer on the skin, and is packed with important micronutrients. Increases microcirculation in the skin, so that the next step/ product works deeper in the skin.
Natural Acid
The Foam Cleanser contain natura AHA that improve skin texture, fade dark spots, and reduce the visible signs of aging.
Why Sollmar?
Well, we have a unique production method for our natural skincare that preserves the nutrients in the ingredients and seaweed in the best possible way.
Vegan, 'Zero-waste' production, multiporpose products, food for your skin and more...
Our uniqueness